SALEM, N.H. — Republican voters preparing for the first-in-the-nation primary say they want a president who will secure the borders and control the flood of migrants entering the country illegally.
Securing the border is former President Donald Trump's signature issue. It should strengthen his campaign in New Hampshire, though there is little daylight between any of the GOP candidates on immigration policy.
"I think Trump's right on a lot of issues. I can't stand [President] Biden," said Salem resident Mark Fitzpatrick, 63, who voted for Mr. Trump in the 2016 and 2020 primaries. "How is it fair for them to open up the gates and let everybody in the country?"
---
---
The Washington Times interviewed more than a dozen New Hampshire voters and found Republicans overwhelmingly named the border and migrants as their top issue, followed by the economy, parents' rights and America's fading clout on the world stage.
A poll earlier this month by the Manhattan Institute produced similar results with 71% of New Hampshire's Republican voters saying illegal immigration on the southern border is a critical threat.
A voter who gave his name only as Archie told The Times that he was convinced the Biden administration opened the borders to let in people likely to vote for Democrats. 
"They're just letting them in to get votes and that's what it's for. They can deny it all they want, but they're letting this in to get votes from all these people," said Archie, 77. "They're giving them free food, free food stamps, free health care and free rent. Everything is free."
Although he voted for Mr. Trump in past primaries, he said he is now deciding between Mr. Trump and Florida Gov. Ron DeSantis.
New Hampshire residents see their next-door neighbor Massachusetts, a sanctuary state, now struggling to keep up with the flow of migrants that are arriving in the region.
Gov. Maura Healey, a Democrat, recently declared a state of emergency because of the influx of migrants seeking shelter at a time when the cost of housing — already in short supply — continues to rise.
Nearly 5,600 families or more than 20,000 people, many of whom are migrants, are living in state shelters, including infants, small children and pregnant women. That's an 80% increase from last year.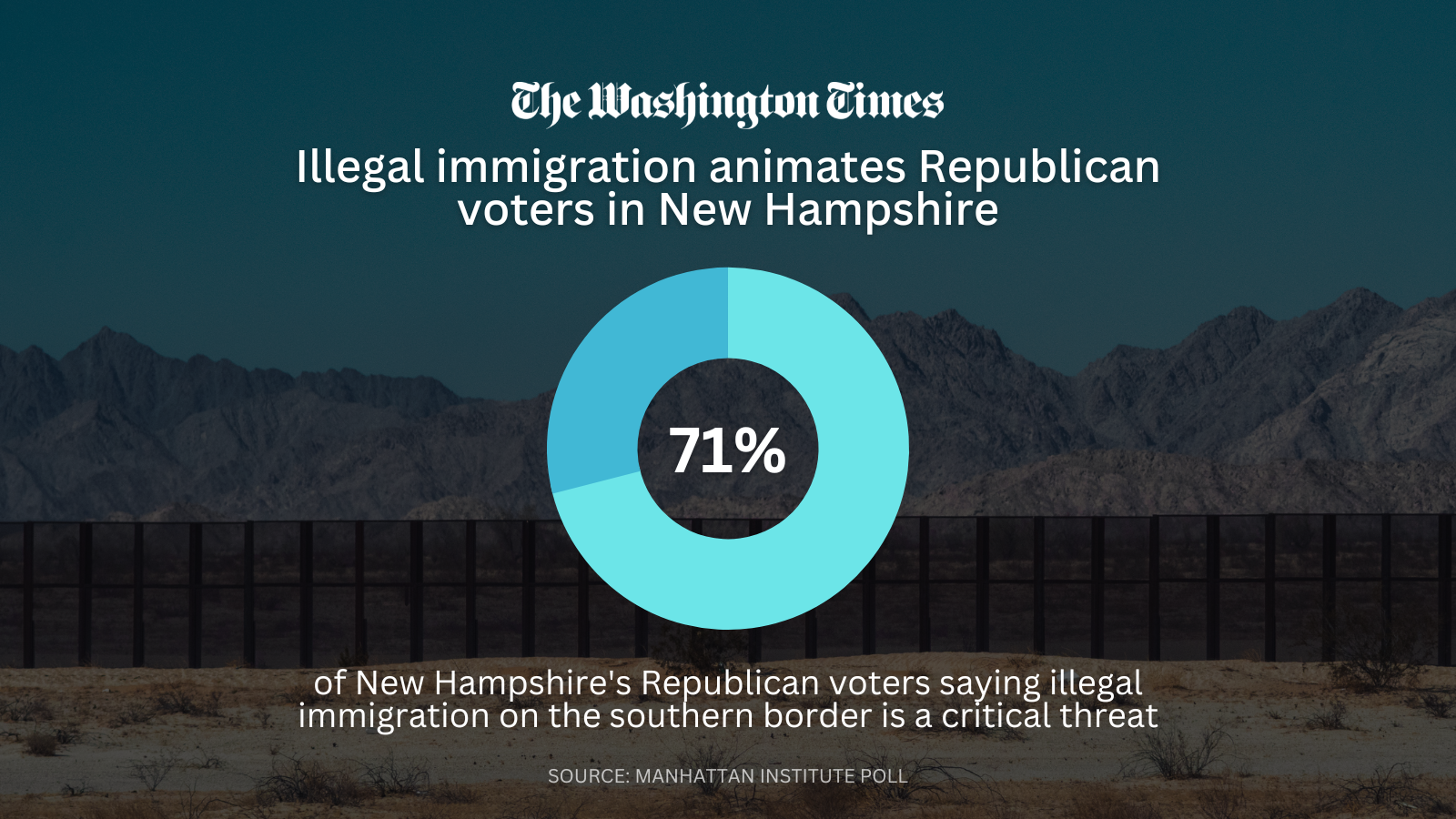 Ms. Healey has asked residents to open their homes to the migrants to help ease the shelter-space crisis.
In New Hampshire's gubernatorial race, GOP nominee Kelly Ayotte asked her Democratic opponent, Manchester Mayor Joyce Craig, if she would follow Massachusetts' lead and ask people to volunteer to house the migrants.
"This is what New Hampshire will look like under her leadership," Ms. Ayotte posted on X, the social media platform formerly called Twitter. Ms. Craig did not respond.
Mr. Trump's rivals in the GOP presidential race have all adopted his get-tough approach to illegal immigration, but the ex-president remains the far-and-away front-runner. He was 24 points ahead of his closes challenger, Mr. DeSantis, in the Real Clear Politics average of recent polls in New Hampshire. The rest of the field was in the single digits.
Mr. DeSantis and former New Jersey Gov. Chris Christie have told New Hampshire voters that Mr. Trump promised to build a wall but failed to finish it. Every GOP contender, including Mr. Trump, has promised to complete the wall.
Mr. Trump won the New Hampshire primary in 2016 with 35% of the vote against a crowded field, sending him on his way to win the nomination and then the White House.
A New Hampshire voter who identified himself only as Dennis, a 73-year-old contractor, said he supported Mr. Trump in the past and plans to support him again.
"I like his policies. I don't like his attitude, but I like his policies," he said. "The Democrats don't have any policies. They run around complaining about abortion. What about the border?"
Click to Read More and View Comments
Click to Hide
---
---